It takes courage to be unique. And a forward-looking strategy. Add emotion and great moments arise. Lasting impressions. It is this mission that brings our team together.
We are
STUDIO 20FOUR
Our vision
POWER OF THE DISTINCTIVE MESSAGE
(01)
People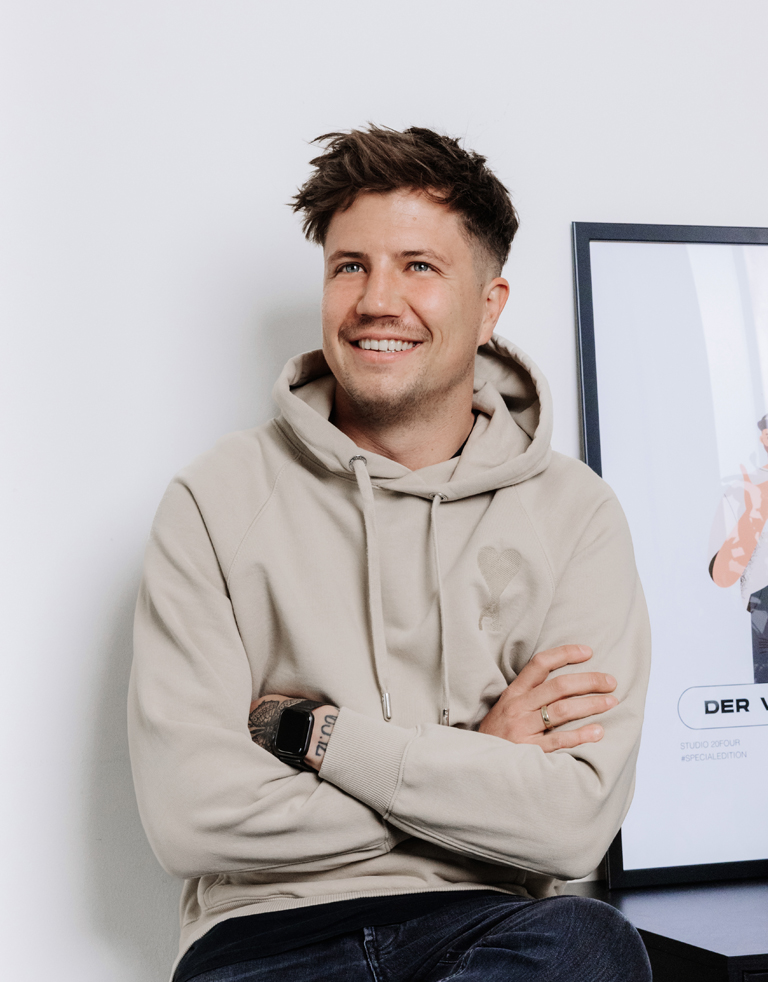 ---
(02)
What we do
We create brand identities that are perfectly matched to the DNA of our company and product. Our aspiration is stylish, straightforward design. Timelessness and change inspire us. Yet the focus is always on what is unique!
So we don't follow any trend. Target-aimed solutions is what we are about. We capitalise on clear strategies. On WOW moments. Always working closely with our clients. We specialise in corporate design, corporate publishing, social media, interaction design, film and photography.
Positioning and differentiating. Stating a position and taking a stance. Standing out and being recognised – the power of well thought-out corporate designs.

We provide companies and products with a clear identity. Unmistakeable. And a focus on the target group.

Magazines, brochures and folders. That is corporate publishing. Yet that is not everything. Corporate Publishing includes all publications and business communication content – classic and digital.

Appealing and with an inimitable design, corporate publishing becomes an experience. We understand what matters.

Social Media has considerably changed our communication. It provides new opportunities for businesses. Based on a clear strategy, we tell stories that attract attention and that motivate.

Stories about the company, its work and the people behind it. Adapted to a target group. Specific to the medium. To the point.

Bland websites are passé. Today's websites provide an opportunity for interaction. It is about user-experience. In a cool design. And this is precisely where we specialise.

Tailored to the strategy and concept, we develop a clear screen design which is user-friendly and communicative. Simple and target-group defined.

Imparting a crucial message without words – that is the power of the image. As a photo or moving image. It is about effectively staging moments and messages.

This is a language we understand and cherish what t brings. Emotional. Straight. Long-lasting.
---
(03)
What we want & what we believe
From impulses arise thoughts – and from thoughts, great ideas are born. We firmly believe in this creative power. It is from it that good design and unmistakable messages emerge. It is the beautiful things that remain in our lives for a long time and bring us satisfaction.
We are advocates of significant changes and value thoughtful, timeless concepts. Through our work, we aim to touch, fascinate, and initiate conversations. Clear, straightforward, and to the point – simply conveying what needs to be said. We believe in the power of emotion and the magic of a smile.
---
(04)
Our clients
Public service
Abfallwirtschaftsverband Osttirol
Dolomitenbank
Gemeinde Thurn
Gemeinde Virgen
Innos
Lienzer Sparkasse
Museum Eisenbahnfreunde Lienz
Regionsmanagement Osttiol
Stadtgemeinde Lienz
Stadtmarketing Lienz
Stadtmarkt Lienz
Stadtmusik Lienz
Tourismusverband Osttirol
Vordenken Osttirol
Wirtschaftskammer Lienz
Wirtschaftskammer Tirol
Tourism/Gastronomy
Aguntum Cafe & Restaurant
Almfamilyhotel Scherer
Almwellness Tuffbad
Bärenstadl Assling
Familienhotel Moosalm
Ferienhaus Töldererhof
Gaumenschmaus Defereggental
Hotel Outside
Lienzer Bergbahnen
Nationalpark Hohe Tauern
Parkhotel Tristachersee
Schlietnhitte
Sporerhof
Wolayerseehütte
Trade
Auto Thum
Autohaus Christian Bodner
Autohaus Fercher
Autohaus Franz
Autohaus Lackner
Autohaus Lusser
Autohaus Plössnig
Autohaus Pontiller
Autohaus Prisker
Bäckerei Rainer
CityRing
Diogenes
Einrichtungshaus Aichner
Eisner Auto
Eurogast Zuegg
Expert Elektro Ortner
Gebrüder Troger
Geigenseer
Gesunde Schuhe
Gomig Josef – Aronia
Greenstore
Gustl
Hanfi
Kuenz
Leder Wimmer
Mühlstätter
New Take Five
Niedertscheider Autohaus
Optik Günther
Optik Trost
Ortner Metzger
OTZ
Pichler Schokoladen
Probike
Raumausstatter Gassler
Rotkäppchen Hutfachgeschäft
Seeber Blumen
Waldner Getreidemühlen
Wassermann
Zanier Fitstore
Zimml Alpinausstatter
Services
Attic Film
Bahnoperator
Cut & Colour by Tanja
Dietrich Kies
EFM / Remax
Fagerer
Forcher
Frey
Gomig Haus- und Gebäudetechnik
Green Print Osttirol
Groundwork
Gugganig Immobilien
Guggenberger Holz
H&V Bausysteme
Installationen Tiefenbacher
Journal
Kurzthaler
Marsoner & Partner
Mühlburger Herbert
Nageler frischbeton
Oberdruck
OSG
Osttiroler Bote
Ski- und Freerideschule Kleinlercher
Stocker Sicherheitstechnik
Theurl Holz
Tischlerei Wieser
Zimmerei Stocker
Health
Alprelax
Dr. Hanga Darinka
Dr. Kraxner Cornelia
Ebner Christoph
HELIOS
Sanitätshaus Ortner
Vitalpinum
Food
Biohof Gstinig
Culinarium
Osttirol de luxe
Wagyuhof Gutwenger
(05)
Awards
CCA Venus
2023
SHORTLIST FOR TVB DRAURADWEG
European Design
Award 2023
FINALIST FOR PARKHOTEL TRISTACHERSEE